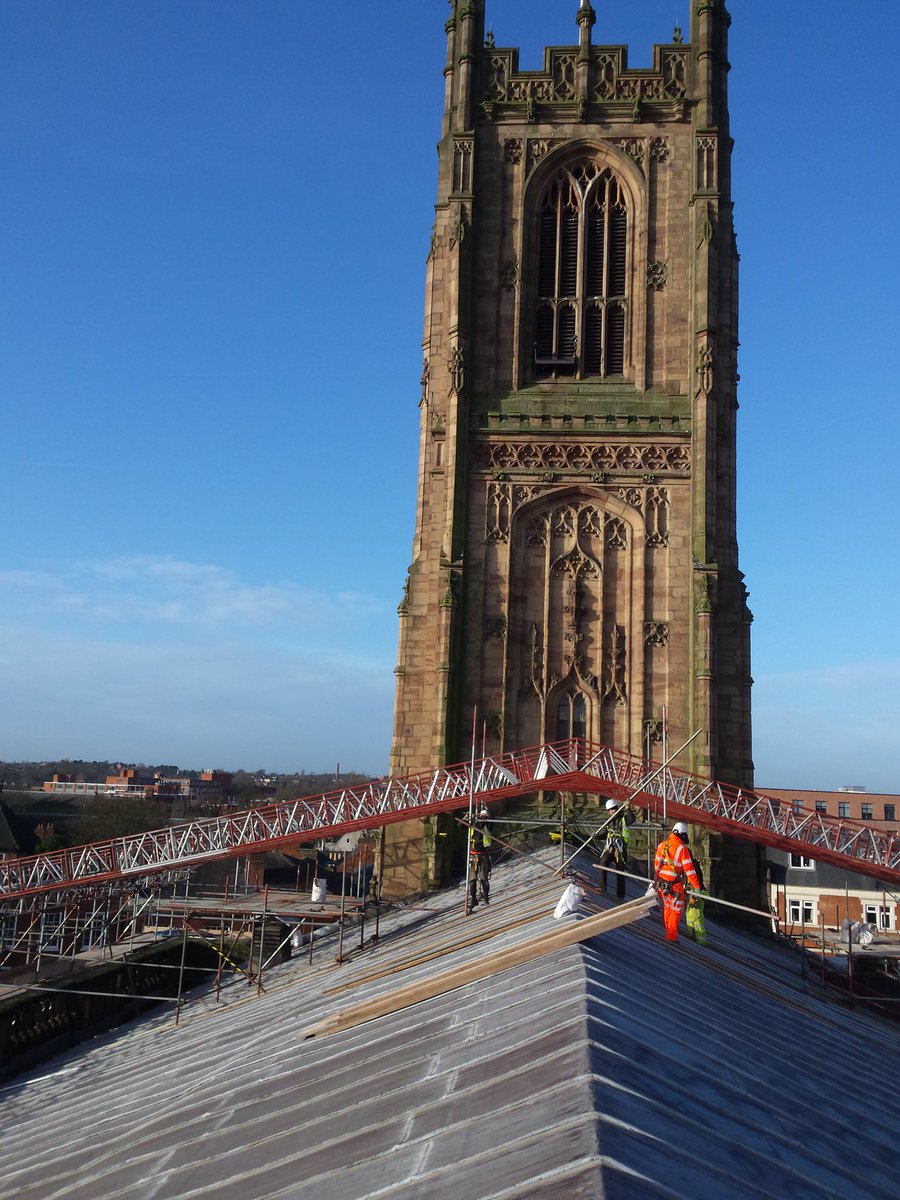 Image by Tamworth Scaffolding
As expected, the scaffolders are now active on the nave roof of Derby Cathedral. This week they will continue fitting the long metal beams across it to form a central apex over which a strong, weatherproof plastic 'shroud' will then be stretched.
Once it is, our peregrines will then not be able to see any movement of the builders working on the roof below them.
Apparently, the work is ahead of schedule, which is good news.
Let's hope the birds are not phased by this activity and still visit their nest after 4pm (when work generally stops) and at weekends. If you see a bird on the platform at any time during the weekday, do please let us know by leaving a comment here on our blog, or sending a tweet to @derbyperegrines.
For those of you who are aware of the law which states that disturbing a peregrine falcon on its nest is a serious offence, we can assure you that we have worked closely with the Natural England's wildlife advisors. Their advice has always been to ensure that roof work started well before the breeding season so that, if they did end up being disturbed by the activity below them, then they would simply give nesting a break for that year, and no offence would be caused because there would be no nesting activity to disturb. The Cathedral staff and builders have worked hard to schedule this work at the optimum time, and so it's been very pleasing so far to see our birds still happy to return to the nest ledge over the weekend of 4th/5th February. See here.
The end of our directional Yagi aerial can just be seen in the
bottom of the picture as a grey cylinder.
Will it be able to stay in contact with The Silk Mill as work continues?
The one technical problem we will soon be facing is the fact that our internet connection relies on a highly directional aerial to send our signals wirelessly to the Silk Mill opposite. (From there, a laser beam sends our signals onwards to Derby Council House and then out to the big, wide interwebby world.) We expect the forthcoming metal beams to be blocking these signals, so are now looking to temporarily
extend our aerial cable by 15metres (50ft) and place it at the edge of the scaffolding. And this has also been posing us a small challenge. Read more on this
here
.
The Project Team
Here's another video captured by Wendy Bartter on Saturday morning showing that, clearly, our falcon has not been put off nest-scraping as a prelude to breeding this season.